EAT Pages: What Are The Key Things To Include In Your 'About' Page?
You probably didn't look forward to setting up an 'About' page when you built your website.
It's hardly the most exciting part of the process. You want to see products go live, orders being places and visitors signing up for newsletters. You don't want to fill out those pages that populate the footer of your page. After all, does anyone even read those?
Well, they do, and even if they didn't, an 'About' page is still an important part of your site's architecture. In this post, we'll look at some key things to include on your About page.
What is an 'About' page for?
Whether you're an eCommerce store, a non-profit, or an innovative tech startup, an 'About' page can be the difference between people understanding your business properly and not.
'About' pages suffer because most web designers and businesses see them as an afterthought. They're one of many links buried at the bottom of a website. It's more of a formality than a piece of content people will actively search out or put effort into.
This leads to most pages featuring a few hastily written paragraphs that never get updated.
However, a good 'About' page can be one of the best sales pages on your website, winning over customers and telling the story of your brand.
We'll cover many of these in the next section, but you should look at an 'About' page as a way for your website to:
Communicate the story of your business
Detail your goals and services
Put a face to your company name
Answer simple questions a first-time visitor might have
In short, you're trying to explain to someone why they should buy from you or work with you.
Key elements of an 'About' page
Let's take a look at a few key elements you must include in your 'About' page, including examples of businesses that implement them particularly well.
Your story
In an age of brands and online personalities, the story of your business has never been so important.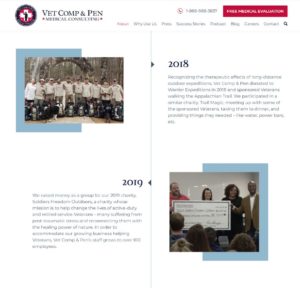 No longer restricted to the humble garage-office beginnings of massive corporations, every business needs to have a story that makes them equally relatable and inspiring to their audience. More important than what that story actually entails is how you tell it. Your 'About' page can be a vessel for some very creative storytelling, using striking visuals and artistic license to give your business a prestigious place in its industry.
Take Vet Comp & Pen as an example. They help veterans secure the medical benefits they're entitled to after their time in the armed forces. A noble cause, backed up by the charitable background of its owners. Still, the digestible timeline they use on their 'About' page is a great way of laying out the steps of that story and telling visitors they can 1) trust their experience and 2) see how they can help them with their concerns.
This timeline method is used across many different industries. Make your story as easy as possible to digest, and you'll have people up to date in no time.
Your business model
Their business model is obvious for some companies, even to people who have just been exposed to their brand for the first time.
For others, it's a unique value proposition that helps set them apart from their competitors. This is part of why customers and clients will go to an 'About' page to see what sets one business and its ethos apart from another.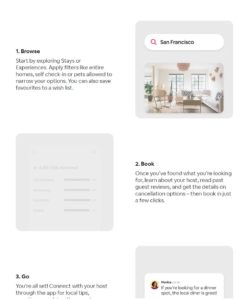 For example, you might use your 'About' page to cover how you:
Use only locally sourced materials
Operate in a way that cuts out the middleman
Donate a section of your income to charity or local causes
Operate behind the scenes and look to improve the employee's experience
Content can back these points up significantly, such as a behind-the-scenes video showing how you pack orders or process customer inquiries.
An 'About' page is also a great way to offer insight into how your services work. Take Airbnb as an example. This travel company rose to international prominence through a simple service that allows customers to rent out other people's homes. Their 'How Airbnb Works' page within the 'About' section reflects that, showing the booking and listing process as a simple step-by-step visual checklist.
Your team
Our previous point touched upon the importance of using your 'About' page to offer a glimpse behind the scenes and show off your workforce. By profiling your team members, you create an instant connection between the consumer and your employees by taking that a step further.
Your employees are your business, so it only makes sense to include them in an 'About' page. You can keep things simple and show a picture, their name, and job title, or you can get a bit more creative, using visuals and video content to show off their individual personalities.
Texas-based digital marketing agency Redonk is one of many companies in the sector that do this particularly well. Not only do does each team member have a professional headshot and some short-but-sweet, personality-building copy, but by hovering over their picture, you unlock a secret 'funny' picture, yet another way of growing the personality and flavor of your brand.
If you're working with clients, this is a great way to break the ice without even picking up the phone.
Media coverage
If someone has been praising you, don't be afraid to shout about it!
While many businesses prefer to have a separate page on their website for the awards and press coverage they've received over the years, it can help to make a note of some of the biggest and most prestigious ones on your About page.
After all, recognition for your good work isn't just a great way of getting customers on board with your business; it's part of your brand's unique story.
A great 'media coverage' section doesn't just show how you've been able to get your name out there but that you're open to more media opportunities down the road.
Don't forget
Before you head off to update your 'About' page, ensure you don't forget these key points.
Visuals are important
Visuals are an increasingly important part of digital content. One of the primary principles of creating compelling web content is the importance of images, video, and even gifs.
When developing your 'About' page, consider how you can tell stories and display achievements through visuals, rather than forcing your visitors to reach a huge block of text. The truth is, they're probably not going to read it.
Don't conflate 'About' pages with 'Contact' pages.
While 'Contact Us' and Q&A pages often fall into the same bracket as an 'About' page and usually make their home in the same website footer, there is a distinct difference between those pages and what you're trying to achieve through a robust 'About' page.
Contact Us pages are much simpler in design. If you land on one, you want to see email addresses, phone numbers, and office locations. You don't want to see a block of text that makes it hard to extract information. Think about what your audience needs at that moment. You can be a bit more flowery in the presentation of your 'About' pages, so don't merge the two.
The beauty of a great 'About' page is that as long as you're informative, creative, and a little bit braggadocious, you can do just about anything with it.
These key elements are a great starting point but by no means a precise framework to follow 100%. Find your own way to tell your brand's story, and don't forget to keep updating it as your business evolves.
Professional Seattle SEO Services Include:
Website Design
We build and oversee websites with a core goal in driving traffic, sales and conversions.
SEO Strategy
Carefully planning an SEO strategy for each business allows our team to target specific goals.
Technical Structure
Technical website structure and backend optimization provide the fundamentals to rank higher.
Website Analysis
Whether its on-page, off-page SEO, we analyze data and position each website to compete.
Content Strategy
It all falls into delivering content potential customers want to read, explore and expect.
More about Seattle SEO Services
I can assure you that SEO is genuine and very important to your website's health. So, what are you thinking? "I've never heard of an SEO? What is SEO? Am I being misled by this salesman?"
Search engines like Google and Bing have to sort through billions of websites to generate accurate search results. How do they quickly take a user's search and respond with pages and results? An algorithm. Algorithms and formulas decide what gets displayed on page one of a search browser; also, pages that rank low follow. This means that your input passes through a series of complex formulas and algorithms, and eventually, hundreds and thousands of web page results are displayed.
Seattle SEO Now, people have gained knowledge and experience through real-life projects. Our company gives websites the traction needed for them to be ranked high. Without getting too nitty-gritty, here is a brief overview. Search engines use keywords to do a lot of heavy lifting when searching for a website. You can get a better SEO rating by repeating keywords and phrases within your website content. Note this does not mean stuffing a web page with keywords!
Everything on your webpage affects SEO ratings in some way. You get a better SEO rating if your title is a good page summary. If links on your page lead viewer to related material, you get a better SEO rating. The main thing to remember is that the core part is that if you have unique and exciting content that holds the viewer's attention, you get better SEO ratings.
Are you interested in more? Read some articles on our SEO blog or contact one of our SEO Experts.
Seattle SEO Services
Improve Visibility | Increase Targeted Traffic | Target Qualified Leads and Conversions | Website Analysis & Competitor Analysis | Keywords Analysis and Suggestion according to website relevance | SEO Friendly URL Suggestion and Implementation | Optimization of Title Tags and Meta Description Tags | Header Tag Optimization | Optimization of italics and bold tags | Analysis of non-indexable attributes | Robots Optimization | Image Analysis and Optimization of Alt and Title tags | Hyperlink Analysis and Optimization | Optimization of internal Navigation /linking structure | Analysis of Broken Links | Page Content Optimization | Fix Canonicalization error | Website URL Redirection | Improve website performance | High-quality Article Submission | Profile Creation | PDF Submissions | Social Bookmarking submission |Directory submission | Classified posting | Local listing | and more.
We offer search engine optimization, online marketing, and web design to small businesses in:
Auburn| Bainbridge Island | Bellevue| Bellingham | Bothell | Bremerton | Burien | Camas | Covington | Des Moines | Edmonds | Everett | Federal Way | Issaquah | Kenmore| Kennewick | Kent | Kirkland | Lacey | Lake Stevens | Lakewood | Longview | Lynnwood | Maple Valley | Marysville | Mercer Island | Moses Lake | Mount Vernon | Oak Harbor | Olympia | Pasco | Pullman | Puyallup | Renton | Redmond | Sammamish | Seatac | Shoreline | Spokane | Spokane Valley | Tacoma | Tumwater | University Place | Walla Walla | Wenatchee | Yakima.
Seattle SEO Now Services Include:
Our Web Agency has worked with many known clients from many industries.