Digital Marketing (Digital marketers) are responsible for using multiple media channels to build awkwardness, generate leads for companies and brands, and connect with current and potential customers. These media channels can include blogs, social media, email marketing, online display ads, and many more. Any marketing involving digital communication is digital marketing.

Digital marketing is a thriving industry and is essential for helping businesses thrive. It is important these days to take full advantage of almost everyone who uses technology. Digital marketing is also an affordable option compared to other marketing strategies, prices depend on what you are doing, but costs tend to be lower. It is found that smartphones are present in 84% of households, while 78% of households own a desktop or laptop. Easy mobile access makes digital marketing essential to reach an audience while users use their mobiles daily. Digital marketing is flexible, as there are many forms that you can use, such as banner ads, content marketing, email marketing, and social media posts.
This marketing can allow creativity and opens many possibilities to build awareness and have more customers. More benefits from digital marketing are speaking with authority on topics related to your industry and product. You can engage with influencers to endorse your company/product. Have the opportunity to incorporate different forms of media into your marketing and be able to track customers' purchases.
Areas of Digital Marketing
Digital marketing can be broken into eight different main categories.
Search Engine Optimization (aka SEO).
SEO is used to get businesses to be on a higher rank in Google search results, which results in increased traffic to the business's websites. SEO marketers search for words and phrases consumers use when searching for information online. There are many things to consider, and some things that SEO strategists need to understand our content indexing, good link structure, and keywords and keyword targeting.
PPC (pay-per-click).
Pay-per-click is paid advertisements and promoting search engine results; this form of digital marketing is best for the short-term. PPC is similar to SEO in that both try to increase search traffic to a business. When setting up a pay-per-click campaign, you must determine who you want your ads or promoted results to show, either precisely geographically or all over the world. The cost depends on how much competition there is for the keywords. High-competition keywords are more expensive, but they are keywords people search for. 
This involves all the social media channels with which everyone is familiar. This area requires coordination and consistency, and analytics is a crucial market. It analyzes performance on posts and creates strategies based on data to help overall exposure. It was found that 88% of industry professionals stated that the increase in exposure was from the benefits of social media marketing in 2021.
Content Marketing.
Content marketing is building a relationship with customers and potentially leading them to sales and, hopefully, more than one transaction. This is a use of storytelling and sharing information to ultimately have the reader become a customer, like requesting more information, signing up for emails, or making a purchase. Content marketing works well with other types of digital marketing, such as SEO. This area of marketing is an excellent place for people who enjoy writing, video, and audio production.
Email Marketing.
This is an effective marketing technique and provides value to consumers. Email marketers are skilled at analyzing customer interactions and data and making strategic decisions. These marketers always try to improve the open and click-through rates. Some ways email marketers do to make it more appealing for users are by creating a sense of urgency, personalizing your email, and letting recipients set their preferences.
Mobile Marketing.
Focuses on reaching a target audience through smartphones. Text messages, social media, websites, emails, and applications do this. They tailor the content based on different things such as geographic location, time, etc. In February 2022, a survey conducted showed that 46% claimed to spend between 5-6 hours a day on their smartphones for personal use. Marketing analytics tracks user behaviors at a detailed level, like how much time is spent on a web page, how many emails users open, and so much more. This analysis allows marketers to adapt their messages moving forward, and understanding the vast information is an integral part of a digital marketer's responsibility.
Affiliate Marketing.
This works with third-party influencers to collaborate with an organization to promote products or services. Third-party influencers must engage their audience with posts, blogs, and videos to bring in more business. Affiliate marketing has become a popular form of digital marketing, showing the industry to be $12 billion in 2022.
You have all probably heard the term "influencer" on social media. Influencers are people on social media who can persuade and promote businesses and brands. Influencers on social media are essential in successful digital marketing. It was written on influencer marketing roles: "Influencer marketing has changed the digital marketing landscape over the past decade. If your business hasn't capitalized on this opportunity, the time is now." Depending on your goals in marketing, working with influencers allows you to use their massive reach to increase brand exposure and awareness. Identifying the right audience is essential in every marketing strategy. Finding the right influencers for your niche allows their public image to align with their brand to find the right target audience. Influencer marketing helps to create buzz about your brand, strengthens your reputation, and improves audience engagement and conversions.
Paths to Digital Marketers
There are many paths to becoming a digital marketer. A common way to become a digital marketer is to complete a bachelor's degree. Depending on your goals, this degree can help you become a (digital) marketing manager, covering many aspects and topics. An essential element in becoming a digital marketer is learning the skills needed, which will be covered in the next section.
You can consider certifications, boot camps, and courses if a bachelor's degree is not the right fit. Bootcamps are fast-paced and cover loads of information in a short amount of time. Boot Camps usually focus on a specialized skill and cover specific topics. They are great for practical and hands-on learning, allowing you to gain learning experience. These boot camps can cost between $300 – $15,000.
Getting an entry-level job in digital marketing or related to it is also a great thing to do. You must set yourself apart from potential employers by having valuable skills or completing internships or boot camps.
It is found that digital marketing professions are slightly better than the average profession. It is found that the overall field should increase by 10% by 2026.
Important Skills Required
To become a successful digital marketer, it is essential to set yourself apart from the competition and do your best. The first and most valuable skill anyone can have is communication skills. Communion is needed for this career since you are part of spreading messages that impact many users, and it's essential to deliver clear and concise messages. Content creation is a valuable skill because it attracts users. It is the foundation of digital marketing efforts because of researching, creating strategic ideas, and promoting them to a targeted audience. Data analysis is essential to better the digital marketing campaigns; understanding that information helps make a more personalized connection with users and better understand how to lead potation users to customers.
Career Paths and Opportunities
Becoming a digital marketer opens many doors. You can go on many paths, like joining a marketing agency, working in a marketing department for a business, consulting, or doing freelance work. To pick the right direction, choosing the specialty that appeals to you is essential. From there, you can begin.
The benefits of working for a (digital) marketing agency is that it is an ever-expanding skill set, and there is lots of creative freedom. You must be self-motivated, a strong communicator, driven by creativity, and enjoy collaborating on campaigns and projects with diverse personalities. These types of work environments are fast-paced and will work with tight deadlines.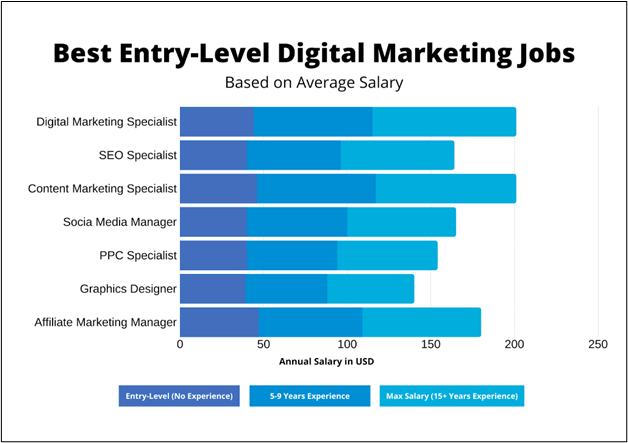 Working as a freelance digital marketer has many positive and negative aspects. You have the independence to choose when, where and what you work on, and there is a level of flexibility that no other job can offer you, like freelancing. There are a variety of projects and clients, and you do not have to stick to just one specialty. But, there is a lack of community, competition, and having to learn to grow and build experience.
Salary Expectations
According to BLS, media communication professionals earned an average of $62,340 in 2021. Depending on the position, the median salary can vary. For example, marketing managers earned a median salary of $153,440. The salary can also depend on your specialty. Entry-level salaries are an average of $41,828. Mid-level earn an average of $72,043. Senior-level students can earn an average of 82,483 per year. The location also plays a role in the salary average.
Most freelancers range between $46,000 (25th percentile) to $83,500 (75th percentile), and the top earners in the 90th percentile can make $106,500 annually in the US. ZipRecruiter has found the annual salary can be as high as $128,500 and as low as $24,000.
Professional Seattle SEO Services Include:
Website Design
We build and oversee websites with a core goal in driving traffic, sales and conversions.
SEO Strategy
Carefully planning an SEO strategy for each business allows our team to target specific goals.
Technical Structure
Technical website structure and backend optimization provide the fundamentals to rank higher.
Website Analysis
Whether its on-page, off-page SEO, we analyze data and position each website to compete.
Content Strategy
It all falls into delivering content potential customers want to read, explore and expect.
More about Seattle SEO Services
I can assure you that SEO is genuine and very important to your website's health. So, what are you thinking? "I've never heard of an SEO? What is SEO? Am I being misled by this salesman?"
Search engines like Google and Bing have to sort through billions of websites to generate accurate search results. How do they quickly take a user's search and respond with pages and results? An algorithm. Algorithms and formulas decide what gets displayed on page one of a search browser; also, pages that rank low follow. This means that your input passes through a series of complex formulas and algorithms, and eventually, hundreds and thousands of web page results are displayed.
Seattle SEO Now, people have gained knowledge and experience through real-life projects. Our company gives websites the traction needed for them to be ranked high. Without getting too nitty-gritty, here is a brief overview. Search engines use keywords to do a lot of heavy lifting when searching for a website. You can get a better SEO rating by repeating keywords and phrases within your website content. Note this does not mean stuffing a web page with keywords!
Everything on your webpage affects SEO ratings in some way. You get a better SEO rating if your title is a good page summary. If links on your page lead viewer to related material, you get a better SEO rating. The main thing to remember is that the core part is that if you have unique and exciting content that holds the viewer's attention, you get better SEO ratings.
Are you interested in more? Read some articles on our SEO blog or contact one of our SEO Experts.
Seattle SEO Services
Improve Visibility | Increase Targeted Traffic | Target Qualified Leads and Conversions | Website Analysis & Competitor Analysis | Keywords Analysis and Suggestion according to website relevance | SEO Friendly URL Suggestion and Implementation | Optimization of Title Tags and Meta Description Tags | Header Tag Optimization | Optimization of italics and bold tags | Analysis of non-indexable attributes | Robots Optimization | Image Analysis and Optimization of Alt and Title tags | Hyperlink Analysis and Optimization | Optimization of internal Navigation /linking structure | Analysis of Broken Links | Page Content Optimization | Fix Canonicalization error | Website URL Redirection | Improve website performance | High-quality Article Submission | Profile Creation | PDF Submissions | Social Bookmarking submission |Directory submission | Classified posting | Local listing | and more.
We offer search engine optimization, online marketing, and web design to small businesses in:
Auburn| Bainbridge Island | Bellevue| Bellingham | Bothell | Bremerton | Burien | Camas | Covington | Des Moines | Edmonds | Everett | Federal Way | Issaquah | Kenmore| Kennewick | Kent | Kirkland | Lacey | Lake Stevens | Lakewood | Longview | Lynnwood | Maple Valley | Marysville | Mercer Island | Moses Lake | Mount Vernon | Oak Harbor | Olympia | Pasco | Pullman | Puyallup | Renton | Redmond | Sammamish | Seatac | Shoreline | Spokane | Spokane Valley | Tacoma | Tumwater | University Place | Walla Walla | Wenatchee | Yakima.
Seattle SEO Now Services Include:
Our Web Agency has worked with many known clients from many industries.